WM8978 Development Audio Sub Board – Standard PMOD Port
It can compatible with any main board that has standard PMOD port.
Pin Defination: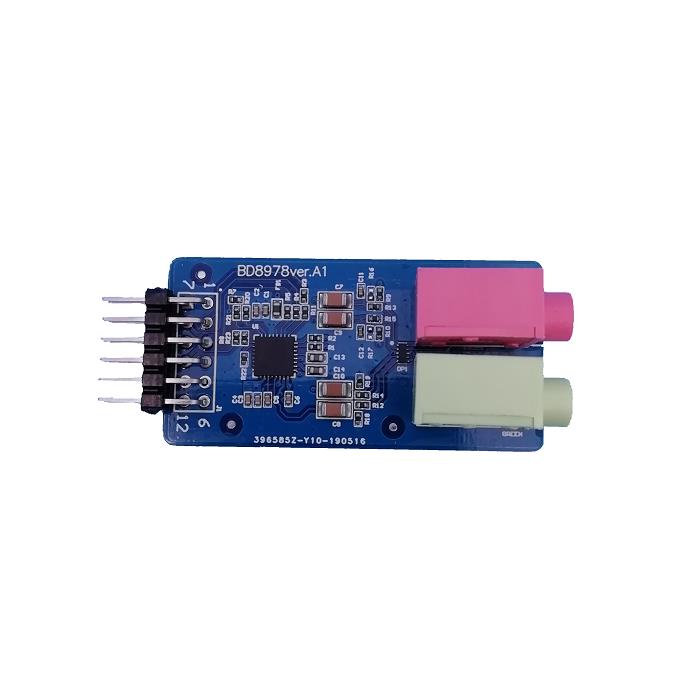 WM8978 Audio Sub Development Board Application in Altera Risc-V board FII-PRA004, please check this link:
Audio 8978 Loopback Experiment (WM8978 Audio Sub Development Board)
Experiment 16 8978 Audio Loopback Experiment
16.1 Experiment Objective
Learn about I2S (Inter-IC Sound) bus and how it works
Familiar with the working mode of WM8978. And by configuring the interface mode and selecting the relevant registers in combination with the development board, complete the data transmission and reception, and verify it
16.2 Experiment Implement
Perform audio loopback test by configuring the onboard audio chip WM8978 to check if the hardware is working properly
Adjust the volume output level with the keys.
16.3 Experiment
16.3.1 WM8978 Introduction
WM8978 is a low power, high quality stereo multimedia digital signal CODEC introduced by Wolfson. It is mainly used in portable applications such as digital cameras and camcorders. Advanced on-chip digital signal processing includes a 5-band equaliser, a mixed signal Automatic Level Control for the microphone or line input through the ADC as well as a purely digital limiter function for record or playback. Additional digital filtering options are available in the ADC path, to cater for application filtering, such as "wind noise reduction".
See Figure 16.1 for the internal structure block diagram of WM8978.
Figure 16.1 WM8978 internal structure block diagram.
For more information, please check Here
If you have any questions, you can contact us or post in the Sub-Board product forums. If you can not register to post, please let us know and I will create a forum username for you.